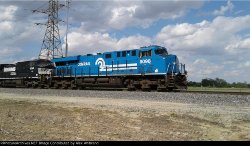 Welcome to the RRPictureArchives.NET contributor site of Alex Ahlbrand.

Hi! My name is Alex, and I've been a railfan ever since I was born. My grandparents owned a farm along Conrail's Indianapolis Line in Fortville, Indiana. As I aged, I got more involved in other hobbies, but came back to railroading when I was seventeen. I became particularly interested in rolling stock because there are some wonderful surprises mixed in with the usual status quo, something I hardly see with modern day CSX motive power.




My goal is to share rolling stock (and the occasional locomotive) that I find interesting. These are intended for 21st century modelers who are looking for a new project, for those interested in keeping track of which cars are in which pools, or merely for those who are just interested in trains.




Most of my shots are taken from my Samsung On5 smartphone. Pictures taken before 2016 were taken on an iPhone 4S. I don't have any fancy equipment, and I don't ever intend on it. It is, after all, just a hobby :)



You may browse my collection of pictures via the menu located on the left hand side of the page. I hope you enjoy the collection and thanks for stopping by!
Note: This site is best viewed in Internet Explorer 6.0 or above.
Select one of the links from the menu on the left to begin browsing the collection.